Devin (The King) Smith and Rudey (Beer) Garlington led the way for early set up and scene destruction duty. Larry (Picked Off) Hill and Steven (Violated Scene) Leggett finally rolled in at 3:00 AM to complete the first wave of Charity III.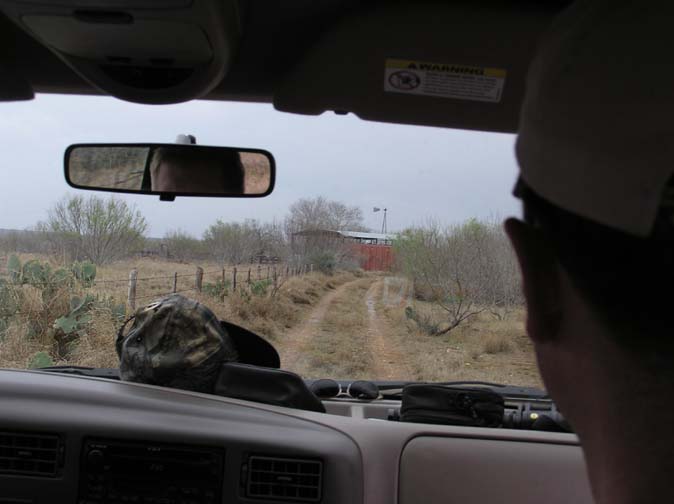 Devin did the honors…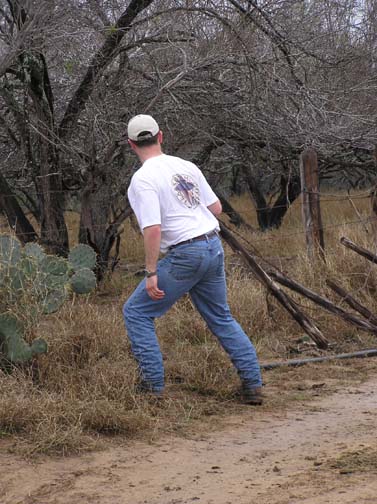 Time to re-introduce the early cast…
May I present, Rudey… Beer!
Larry Picked Off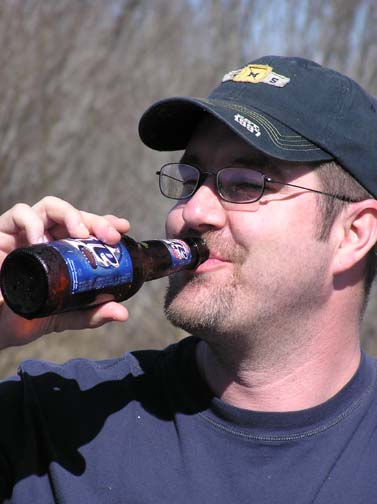 And the The King (foreshadowing) Devin Smih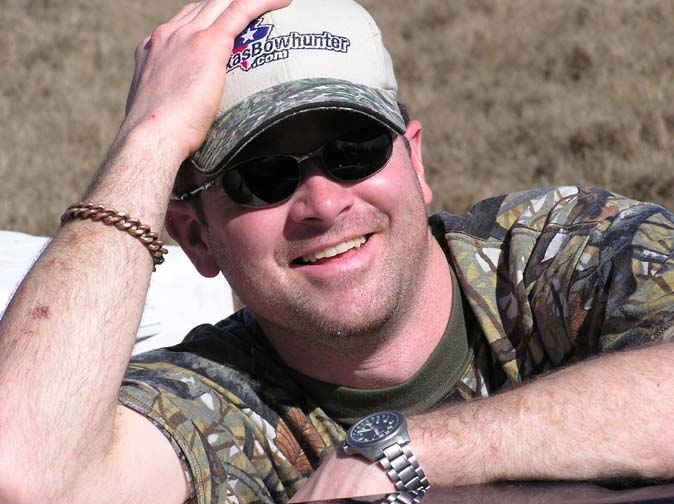 Afternoons were made for set up. We brought plenty of stands and toys, so of course, we had work to do.
Larry decided he wanted to hunt the road from camp where he enjoyed success several years ago at Charity I.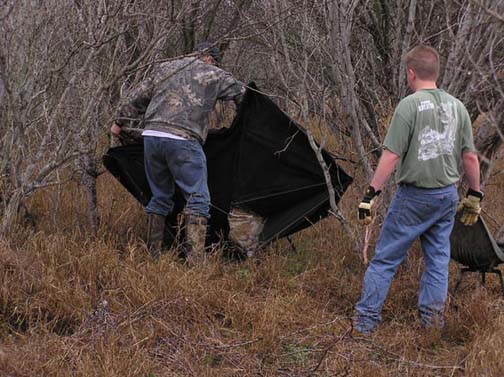 Larry took a set up whippin' while others stood around taking pictures and offering verbal encouragement.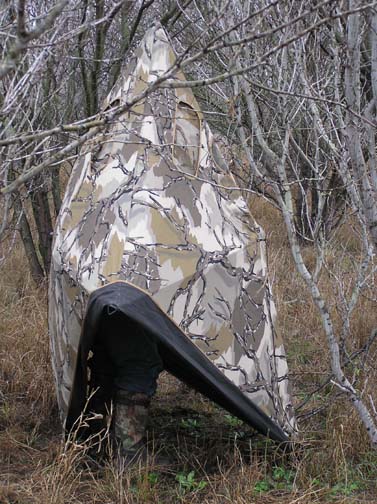 Eventually, Larry was satisfied and ready to rock.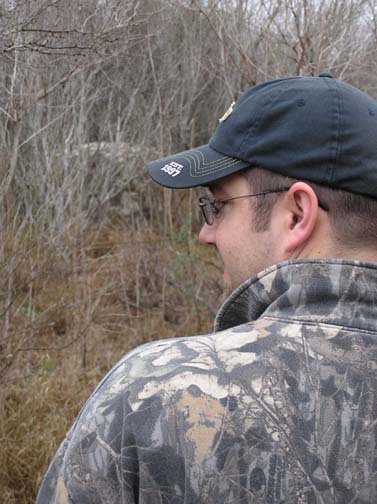 My usual Charity stand is the "Big Oak". It has a permanent stand so set up here was minimal. Devin (The King) was kind enough to give the set up a thorough once over, before Larry and I arrived. Thanks again, Devin!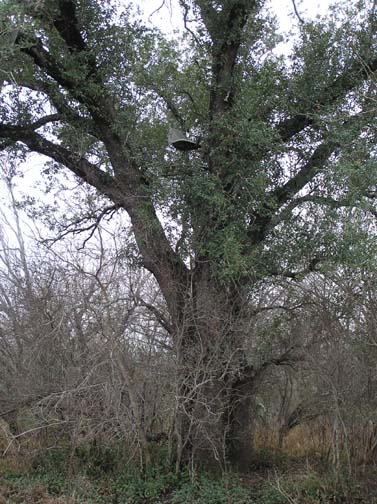 The Big Oak is popular with tree climbing types because it affords cool views. Here is the view north.
While cruising the MMR on set up patrol, many old landmarks stand out but few are as distinctive as this group of oaks. Devin (The King) has enjoyed porcine here during Charity I.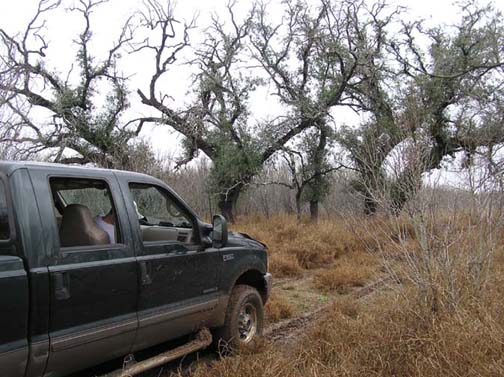 Another popular MMR stand is called simply "Devin's" due to the successful venison harvest Devin (the King) engineered during Charity I.
Devin's stand needed a bit of tweaking. Civil Engineers in trees always provide a good photo opportunity.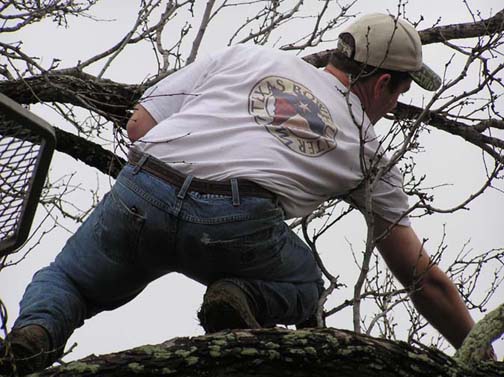 After a lot of advice from the ground crew, Devin (The King) was ready to ascend to his throne.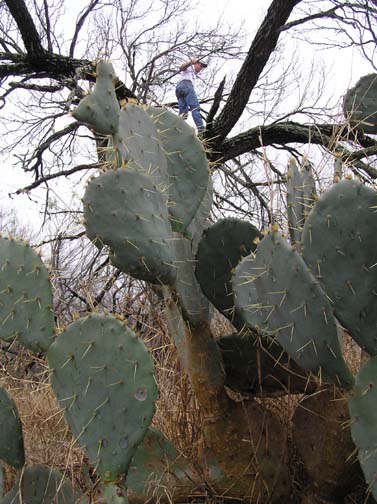 Of course, an afternoon of stand tweaking demands a proper group photo.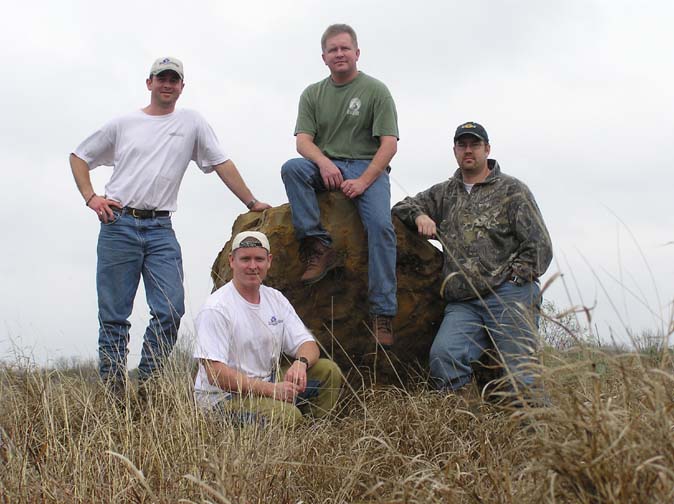 Finally it is time to do what some of us (Devin) do so well.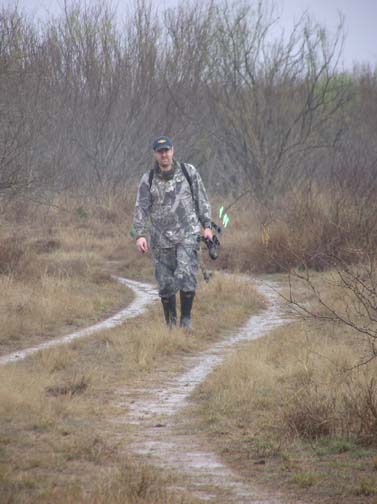 Devin is not content to hunt with the rest of us on the MMR, and deftly crawls under the fence to the adjoining pasture. (not really)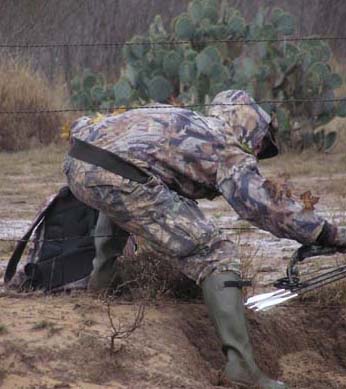 Back at Legdog's officially christened barn, Rudy showed his game.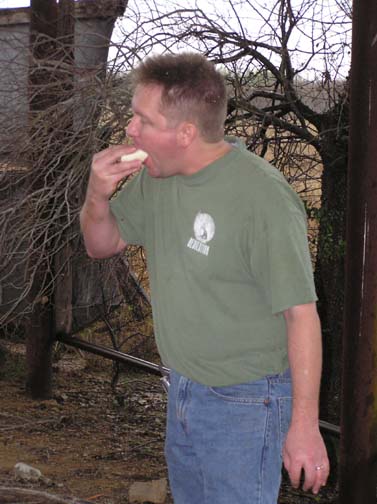 Finally, after much ballyhooed anticipation, our hosts arrived! Manly handshakes were exchanged and set up part deaux, was on!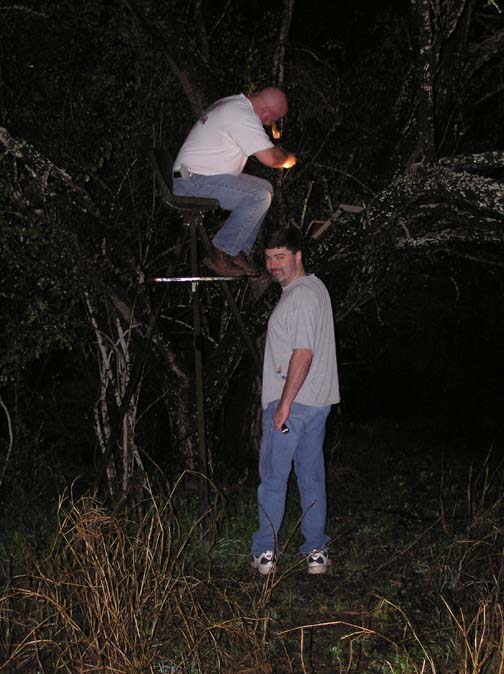 Casey made sure we all understood the penalties for shooting 3.5 year old 10 pointers.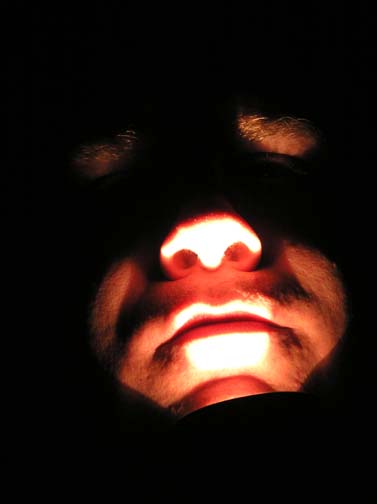 The Charity hunts are frequent venues to entertain extended brethren from TBH land. This year's campfire fellowship guests included Steve "Bones" and J.P. "J.P. Bruni". They bravely sampled Rudey's *** fire chili and shared good campfire bull.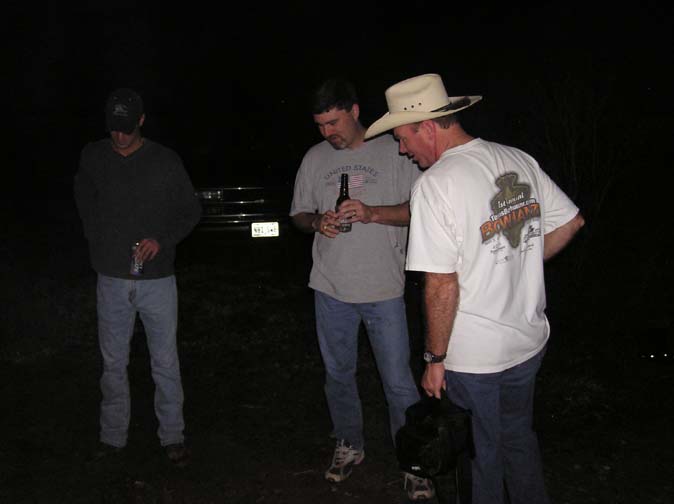 After a wet first day on stand, we were treated to fog.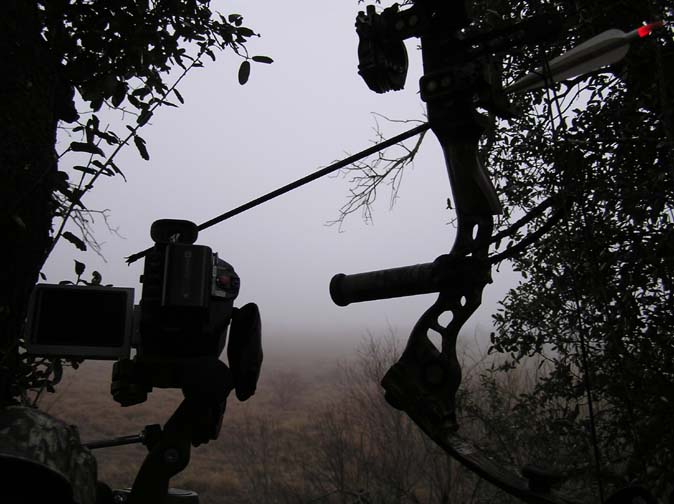 Devin (The King) brought his "A" game and scored the first applicant for VE consideration. Shortly after the shot, Devin shares the news with his family back in Wichita Falls.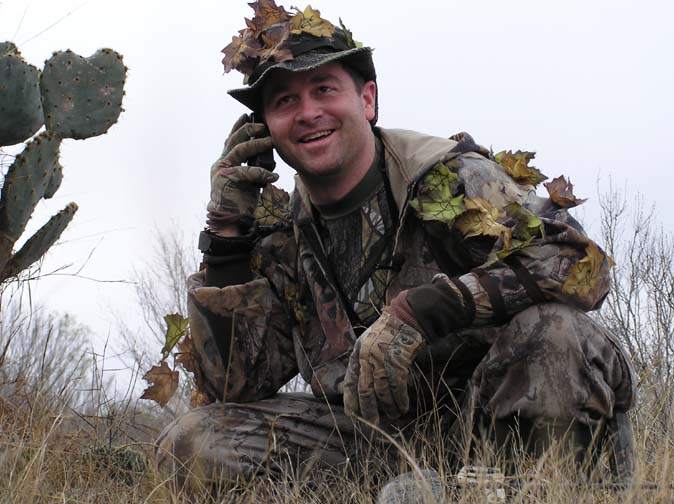 And the first VE was in the books. Ample video production to follow…
Group Production Spike Video
The King Holds Court!
Sneaky leaves in a bare mesquite will do it every time!!!
# 290 something hits the hielo courtesy Devin (The King!)
The successful video harvest provided the opportunity to knock out the mandatory Group Photo.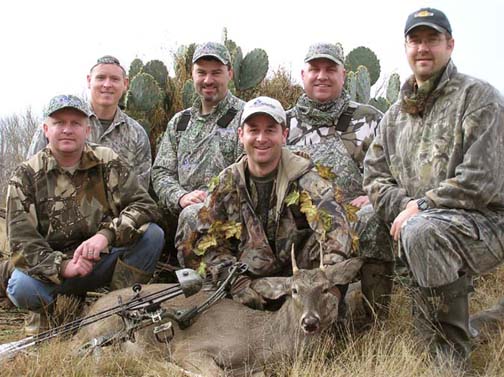 After the congratulations subsided, it was back to stand tweaking and more photo ops. Michael checks out a possible new stand location.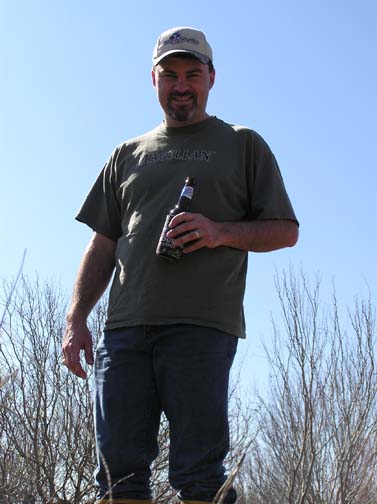 Meanwhile, back at Lgdog Barnn, Devin decides to practice a little performance art…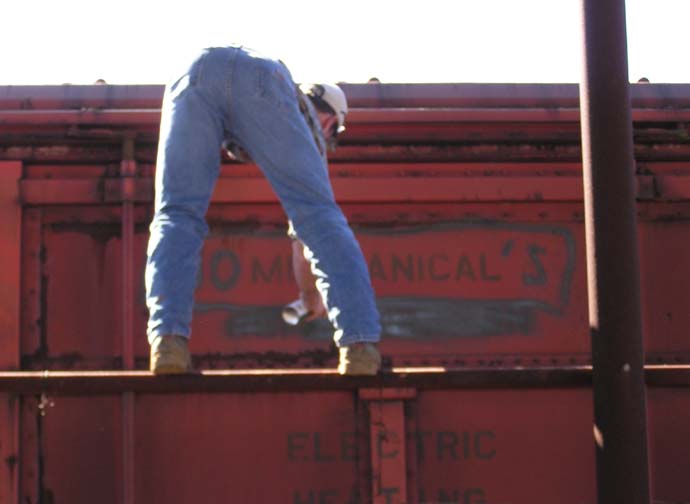 Then with little advance warning, Elvis snuck back in to the building!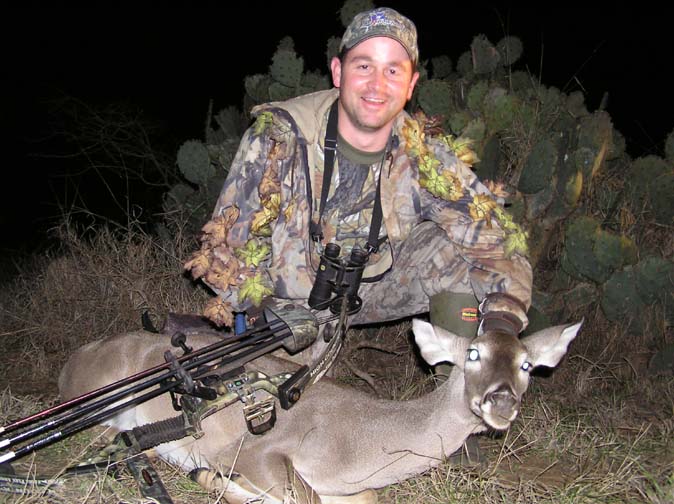 Long Live The King!
Devin re-applies the Thunder!
After a second trip to "Devin's Gambrel" we finally settled in for a little campfire fellowship in a freshly harvested bacon wrapped venison tortilla.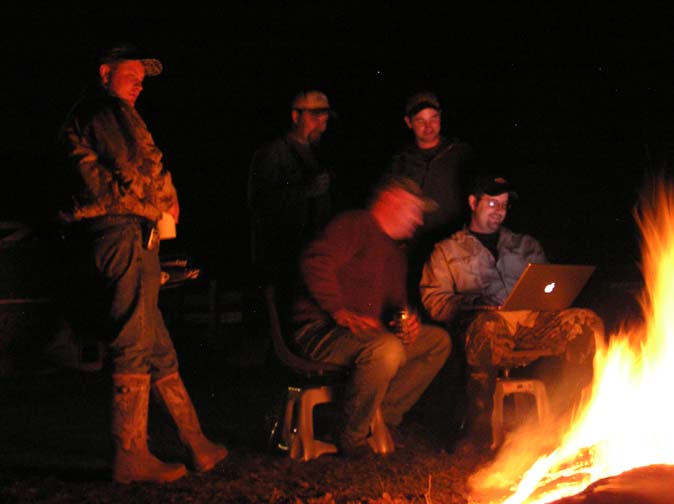 Devin and Larry prepared the guest of honor for tonight's fire.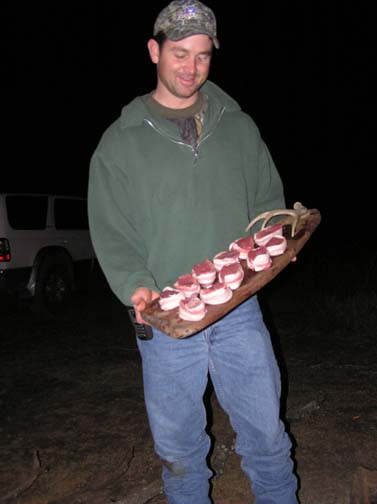 If you have never had Fat Hector's Gorditas and freshly harvested bacon wrapped venison with a Merle Haggard soundtrack, well, you should.
As per usual, Casey holds campfire court.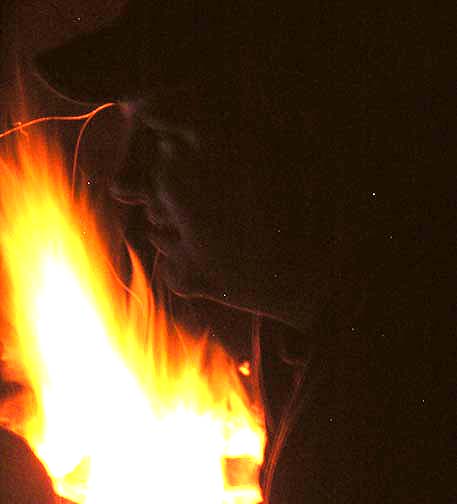 In the end, The King strikes a well deserved and familiar pose.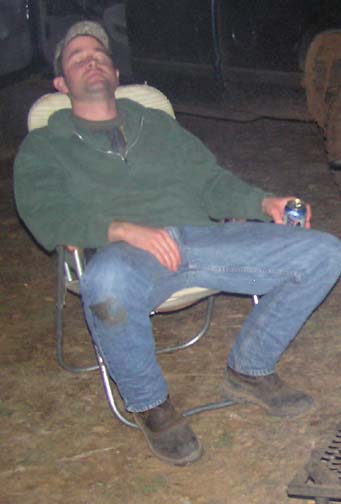 After a blitzkrieg tour, Charity III is in the books. Thanks so much to all who participated for adding the necessary ingredients for another successful hunt.
Thanks for coming along,
Amen
I also have a link to Devin's version of this hunt here.