Ten Point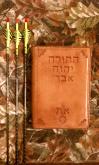 Join Date: Nov 2009
Location: The Woodlands/Conroe
Hunt In: Montgomery & Grimes
Daily Bible Portion (Saturday)
---
Daily Bible Portion - 7 of 7
"IN THE BEGINNING"
(Weekly Reading>>>Genesis 1:1-6:8, Isaiah 42:5-21, John 1:1-18)
This is the key to the whole redemption of the soul message (1 Peter 1:9-13). It is our job to deal with our sin of dishonor! Scripture says not to eat the fruit of the Tree of Knowledge of Good and Evil or we will die. "If we do not do what is right sin crouches at our door. It desires to have us." Another person or situation outside of ourselves does not cause us to sin. We alone open the door to sin and cause our own destruction.
Proverbs 18:6-8 "A fool's lips enter into contention, and his mouth calls for blows. A fool's mouth is his destruction, and his lips are the snare of his soul. The words of a talebearer are like tasty trifles, and they go down into the inmost body."





James 4:1 "Where do wars and fights come from among you? Do they not come from your desires for pleasure that war in your members?"



Jeremiah 17:9 "The heart is deceitful above all things, and desperately wicked; who can know it?"


Mark 7:21 "For from within, out of the heart of men, proceed evil thoughts, adulteries, fornications, murders, thefts, covetousness, wickedness, deceit, lewdness, an evil eye, blasphemy, pride, foolishness. All these evil things come from within and defile a man."
Romans 8:7 "Because the carnal mind is enmity against God; for it is not subject to the law of God, nor indeed can be."




2 Peter 3:16 "He [Paul] writes the same way in all his letters, speaking in them of these matters. His letters contain some things that are hard to understand, which ignorant and unstable people distort, as they do the other Scriptures, to their own destruction."
The Realms of Darkness
Many do not realize that harboring hard hearts produces actions and attitudes that bring in a rush of sin. Anger and wrong heart attitudes are open doors that host a flow of sin like a river right into our heart! We need to realize it is our attitudes that are major causes to our struggles.
For a believer to entertain a bad attitude is sin. Retaining such countenance will put him or her under the law of sin and death (darkness) and give Satan opportunity to control that life!
Yahweh commands us to master our attitudes, take off our old fleshly dark natures and learn to walk with Him, forgiving our neighbors and praising Him with a thankful heart!
2 Corinthians 4:6 "For it is the God who commanded light to shine out of darkness, who has shone in our hearts to give the light of the knowledge of the glory of God/Elohim in the face of Jesus Christ/Yeshua the Messiah."
The Dishonoring Heart
1 John 1:6 "If we say that we have fellowship with Him, and walk in darkness, we lie and do not practice the truth…"


Romans 1:28-31 [If we continue in dishonor to Yahweh after we have become born again, He will lead us over to] "…a debased mind [heart], to do those things which are not fitting; being filled with all unrighteousness, sexual immorality, wickedness, covetousness, maliciousness; full of envy, murder, strife, deceit, evil-mindedness; they are whisperers, backbiters, haters of God, violent, proud, boasters, inventors of evil things, disobedient to parents, undiscerning, untrustworthy, unloving, unforgiving, unmerciful."
The Works of Dishonor - Sinful Flesh
Jeremiah 2:13 "For My people have committed two evils: They have forsaken Me [Yeshua], the fountain of living waters, and hewn themselves cisterns -- broken cisterns that can hold no water."


James 1:14, 19-22 "…[Believer] each one is tempted when, by his own evil desire, he is dragged away and enticed. Then, after desire has conceived, it gives birth to sin; and sin, when it is full-grown, gives birth to death. …My dear brothers, take note of this: Everyone should be quick to listen, slow to speak and slow to become angry, for man's anger does not bring about the righteous life that God desires. Therefore, get rid of all moral filth and the evil that is so prevalent and humbly accept the word planted in you, which can save you. Do not merely listen to the word, and so deceive yourselves. Do what it says."





Galatians 5:19-21 "Now the works of the flesh [darkness - the Law of Sin and Death] are evident, which are: adultery, fornication, uncleanness, lewdness, idolatry, sorcery, hatred, contentions, jealousies, outbursts of wrath, selfish ambitions, dissensions, heresies, envy, murders, drunkenness, revelries, and the like; of which I tell you beforehand, just as I also told you in time past, that those [believers] who practice such things will not inherit the Kingdom of God."
Paul is talking to believers in Ephesus when he says, in Ephesians 4:20-32,
"But you have not so learned Messiah, if indeed you have heard Him and have been taught by Him, as the truth is in Yeshua: that you put off, concerning your former conduct, the old man [the evil thoughts of the sinful nature] which grows corrupt according to the deceitful lusts, and be renewed in the spirit of your mind, and that you put on the new man [heavenly nature/Kingdom Fruit of the Spirit] which was created according to God, in true righteousness and holiness. Therefore, putting away lying, let each one of you speak truth with his neighbor, for we are members of one another. Be angry, and do not sin: do not let the sun go down on your wrath, nor give place to the devil. Let him who stole steal no longer, but rather let him labor, working with his hands what is good, that he may have something to give him who has need. Let no corrupt word proceed out of your mouth, but what is good for necessary edification, that it may impart grace to the hearers. And do not grieve the Holy Spirit of God, by whom you were sealed for the day of redemption. Let all bitterness, wrath, anger, clamor, and evil speaking be put away from you, with all malice. And be kind to one another, tenderhearted, forgiving one another, just as God in Messiah forgave you."
The outcome of Cain's anger was murder. The lesson of obedience is the message that Yahweh wants us to remember.
"By faith [obedience] Abel offered Yahweh a better sacrifice than Cain did. By faith [obedience] he was commended as a righteous man, when Yahweh spoke well of his offerings. And by faith [obedience] he [Abel] still speaks, even though he is dead" (Hebrews 11:4).
The Overcomer
"To him [believer] who overcomes [the darkness within and chooses to leave Satan's realm, the law of sin and death, to honor Yahweh] I will give to eat from the tree of life, which is in the midst of the Paradise of God" (Revelation 2:7).

"He [believer] who overcomes [the darkness within and chooses to leave Satan's realm, the law of sin and death, to honor Yahweh] shall not be hurt by the second death" (Revelation 2:11).

"To him [believer] who overcomes [the darkness within and chooses to leave Satan's realm, the law of sin and death, to honor Yahweh] I will give some of the hidden manna to eat. And I will give him a white stone, and on the stone a new name written which no one knows except him who receives it" (Revelation 2:17).


"And he [believer] who overcomes [the darkness within and chooses to leave Satan's realm, the law of sin and death, to honor Yahweh], and keeps My works until the end, to him I will give power over the nations - He shall rule them with a rod of iron; they shall be dashed to pieces like the potter's vessels - as I also have received from My Father; and I will give him the morning star" (Revelation 2:26-28).

"He [believer] who overcomes [the darkness within and chooses to leave Satan's realm, the law of sin and death, to honor Yahweh] shall be clothed in white garments, and I will not blot out his name from the Book of Life; but I will confess his name before My Father and before His angels" (Revelation 3:5).

"He [believer] who overcomes [the darkness within and chooses to leave Satan's realm, the law of sin and death, to honor Yahweh], I will make him a pillar in the temple of My God, and he shall go out no more. And I will write on him the name of My God and the name of the city of My God, the New Jerusalem, which comes down out of heaven from My God. And I will write on him My new name" (Revelation 3:12).

"To him [believer] who overcomes [the darkness within and chooses to leave Satan's realm, the law of sin and death, to honor Yahweh] I will grant to sit with Me on My throne, as I also overcame and sat down with My Father on His throne" (Revelation 3:21).

"He [believer] who overcomes [the darkness within and chooses to leave Satan's realm, the law of sin and death, to honor Yahweh] shall inherit all things, and I will be his God and he shall be My son" (Revelation 21:7).



Matthew 25:34 "Then the King [Yeshua] will say to those on His right hand [those who have chosen life/obedience to Yeshua's Kingdom principles, will be sitting at His right hand], 'Come, you [Bride] blessed of My Father, inherit the Kingdom prepared for you from the foundation of the world'" (John 17:24).


1 John 1:1 "That which was from the beginning, which we have heard, which we have seen with our eyes, which we have looked at and our hands have touched- this we proclaim concerning the Word of life [Jesus/Yeshua, the Living Torah]."
Hope in a Redeemer
Genesis 4:25 "Adam lay with his wife again, and she gave birth to a son and named him Seth, saying, 'Yahweh has granted me another child in place of Abel, since Cain killed him.'"
There are ten generations from Adam to Noah. We understand all these generations remembered Yahweh's promise to Eve/Chavah of a Redeemer, because it is evident in the names and respective meanings each man chose for their sons.
•Adam: man
•Seth: appointed
•Enosh: mortal
•Kenan: sorrow
•Mahalalel: blessed one
•Jared: will come down
•Enoch: teaching
•Methuselah: (that) his death will send
•Lamech: the hidden King (despairing)
•Noah: Rest (comfort)
If we put all the names together it becomes a prophetic message saying, "Man is appointed mortal in sorrow, but our blessed One will come down teaching that His death will send the hidden King rest (or despairing comfort)." The whole redemption message is revealed in the naming of their generations. The power of the spoken word!
Yahweh was faithful to His Word when Adam ate from the forbidden tree. Yahweh said that he would surely die in that day. As a day is as a thousand years to Yahweh, Adam died before his time at the age of 930, before the day was over (Psalm 90:4; 2 Peter 3:8).
Note: When Lamech, the father of Noah, was alive, so were all the generations before him back to Adam. Lamech would have walked with Adam and learned about the Garden, this he shared with his son Noah. Thus was Noah's heritage. It would not be for another ten generations after Noah that we see a people being drawn out from the nations and set apart.
Psalm 27:1 "The LORD/Yahweh is my light and my salvation; whom shall I fear? The LORD/Yahweh is the strength of my life; of whom shall I be afraid?"
Psalm 19:1-7 "The heavens declare the glory of God; and the firmament shows His handiwork. Day unto day utters speech, and night unto night reveals knowledge. There is no speech nor language where their voice is not heard. Their line has gone out through all the earth, and their words to the end of the world. In them He has set a tabernacle for the sun, which is like a bridegroom coming out of his chamber, and rejoices like a strong man to run its race. Its rising is from one end of heaven, and its circuit to the other end; and there is nothing hidden from its heat. The law of the LORD/Yahweh is perfect, converting the soul; the testimony of the LORD/Yahweh is sure, making wise the simple."
continues tomorrow...