Pope & Young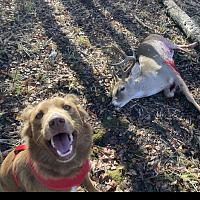 Join Date: Jan 2010
Location: Weatherford, Tx.
Hunt In: Wise Co.
Drought Conditions and Deer
---
From a report I received from The Texas Farm Bureau.

Drought impacting deer antler quality, body weight

By Jessica Domel
Multimedia Reporter

The drought is taking its toll on white-tailed deer across much of Texas.

According to Alan Cain, white-tailed deer program leader for the Texas Parks and Wildlife Department (TPWD), hunters in two-thirds of the state can expect to see average or below-average antler quality, lighter body weights and a smaller white-tailed deer fawn crop.

"The hot, dry weather affects the plant community out there, which ultimately provides the nutrition that deer need," Cain said in an interview with the Texas Farm Bureau Radio Network. "As plants become stressed, and in some cases you see defoliation of plants, there's not the nutritional level that bucks really need to maximize their antler growth or that does need to keep up their body reserves to be able to nurse the fawns and help them survive into the fall."

There is an exception though.

"There is a kind-of pocket of habitat from College Station north and back to the east toward the Red River and Arkansas and Louisiana that's received some reasonable rain," Cain said. "Habitat conditions are in fair shape, so they're actually seeing a little bit better quality this year."

Despite impacts from the drought in other parts of the state, hunters should still have the opportunity to bag a deer this season.

"I think harvest opportunities should be good across most of the state," Cain said. "If the hot, dry conditions persist, the habitat out there becomes distressed. The deer are going to be coming to the feeders more frequently, and in those locations, hunters may have good success."

Land with marginal habitat or low deer density may not have the same opportunities as other locations that have year-round feeders or available surface water.

"Places that have marginal or poor habitat are always going to have tough hunting conditions. It's not like you can change that significantly just feeding alone. Habitat management is important in those situations to improve habitat," Cain said.

Putting out deer feeders may help. Landowners are also encouraged to consider water supply.

"If you don't have good surface water distribution on your property or your hunting lease, deer may move somewhere else where water is more readily available, especially when it's hot and dry," Cain said. "Properties out there that may have some water distribution issues or lack of water, that's something you can do this summer. If you have opportunities to put a water well in, maybe refurbish an old windmill, put a solar pump in—anything to get some water out there."

Landowners with livestock on a property they intend to hunt should also consider grazing pressure as fawning cover is already in short supply due to limited grass and herbaceous ground cover.

"It is critical for landowners to be mindful of grazing pressure and adjust livestock stocking rates accordingly and rotate pastures to leave some remaining cover," Cain said.

In addition to impacting where deer are moving, drought can also affect deer body weight and overall condition.

"Obviously, we had a dry winter through most of the state, and so bucks and does coming out of rut just had a harder time recovering. A lot of them didn't have the good spring green-up that we need to help them rebuild those body reserves and put on good fat throughout the spring and summer," Cain said.

If the state receives rain from now through August, and habitat conditions improve, it could have a positive impact on the fawn crop and fawn recruitment.

That doesn't impact hunting for this year, but it will for future years.

"If we get some rain, especially in the next week or two, that just gives the doe the opportunity to improve her body conditions. That translates into better milk production, which hopefully influences fawn survival," Cain said.

Unfortunately, rain between now and August won't do much to improve buck antler quality.

General white-tailed deer hunting season opens the first full weekend in November.

Cain said hunters may want to consider hunting in the earlier part of the season instead of the late season in January.

"If it stays dry, speaking from a biologist's perspective, the quicker you can get mouths off the range, the better. That means less impact on the habitat out there that the deer need to sustain themselves," Cain said. "I would suggest trying to harvest earlier in the season, but certainly, people have schedules and life gets busy. That's why we have a long deer season in Texas to give people lots of opportunity and flexibility."

In areas where deer numbers are higher than the habitat can sustain, deer hunting can be a valuable management tool.

"If you've got a place that's overpopulated, this hunting season would be a good time to reduce the deer population and kind of get it in line with the habitat out there so, [the habitat] can support the animals considering the conditions we're in."

Texas supports a robust white-tailed deer herd, according to Cain. The latest deer population survey, from 2021, estimates the deer population at 5.4 million, which is essentially unchanged from 2020.

The statewide population this fall is likely to be lower than previous estimates due to the expectation of below-average fawn recruitment this year.

Hunting season dates
This 2022-2023 hunting season dates are available here.

Regional forecasts
Edwards Plateau
The Edwards Plateau, in South Central Texas, has the highest deer population in the state at about 1.99 million deer. Hunter success runs about 76% with an estimated 12.6 deer per 1,000 acres harvested.

"Mason and Llano counties have some of the highest deer densities in the state. It's around a deer for every four acres, according to our regulatory surveys. Those numbers will continue to be high," Cain said.

In that part of the region, Cain said doe harvest is especially important to relieve browsing pressure on the habitat by lowering deer density. It will also help bring the doe-to-buck ratio more in balance.

The western part of the Edwards Plateau had an anthrax outbreak in 2019, and deer populations there are still recovering. Hunters in that part of the region are encouraged to limit doe harvest.

Hill Country
Hunters in the Hill Country should expect to see fewer bucks in the 4.5- to 5.5-year-old range due to poor fawn recruitment in 2017 and 2018.

Hunters there will likely see a larger group of young-to-middle-aged bucks relative to other age classes. Cain said they may consider passing up some of those bucks and take a doe instead

The area between Hondo and Del Rio and north of Highway 90 has older age class bucks.

Cross Timbers
The Cross Timbers region in north Texas has the second highest deer population in Texas at around 880,000 head.

Deer densities range from 21 to 104 deer per 1,000 acres.

Buck age structure there is generally well distributed across all age classes, according to Cain's forecast.

He said above-average fawn crops in 2016 and 2017 suggest more bucks in the 4.5- to 5.5-year-old range relative to younger classes.

Cain said hunters looking for more mature bucks should not be disappointed this upcoming season.

South Texas
South Texas is known for its mature bucks and above-acreage antler quality.

Cain said deer densities there range from 24-34 deer per 1,000 acres.

There's a stable population there that has slowly grown over the past five years.

Populations there are likely to decline a bit this year due to dry conditions and expected lower fawn recruitment.

Cain said harvest is expected to be up this fall, but antler quality is expected to be below average with poor to marginal habitat conditions due to drought.

Post Oak Savannah
Deer densities in the Post Oak Savannah region range from 33-70 deer per one thousand acres.

The highest population of deer in that area will be along the I-10 corridor from San Antonio to Houston.

The northern portion of the region had a good spring, which Cain said should contribute to at least average fawn production.

Antler quality is expected to be about average.

Pineywoods
If you plan on hunting in the Pineywoods area, the highest deer density is around the I-45 corridor.

Cain said the density is about 28 deer per one thousand acres.

According to the population surveys from 2020 and 2021, the estimated deer population in the Pineywoods was about 330,000 deer, which is higher than the previous three years.

Cain said according to buck harvest trends, about 51% of the bucks harvested are 3-and-a-half-years-old and older.

Hunters should expect the same this year.

Eastern and Western Rolling Plains
The Eastern and Western Rolling Plains generally have a lower deer population compared to other regions.

The region has had a stable to increasing white-tailed deer population, but with lower-than-average fawn recruitment anticipated, the deer population this fall is expected to be relatively unchanged this year.

Cain's forecast said there are likely to be more 5.5- to 6.5-year-old bucks in the population compared to other ages.

Because of larger property sizes in the region, and relatively light hunting pressure, and more interest in deer management, harvest trends of older age class bucks are expected to continue.

General white-tailed deer hunting season in the north and south zones opens Nov. 5.