Ten Point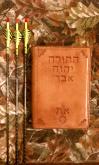 Join Date: Nov 2009
Location: The Woodlands/Conroe
Hunt In: Montgomery & Grimes
Daily Bible Portion (Thursday)
---
Daily Bible Portion - 5 of 7
YOM KIPPUR - DAY OF ATONEMENT
(Weekly Reading>> Leviticus 16:1-34, Numbers 29:7-11, Isaiah 57:14-58:14, Hebrews 5:1 to 7:28)
Many attendees do not know that this rabbinic greeting was adopted during the time of Judah's Babylonian captivity and adopted into their Babylonian Talmud. Rosh Hashanah is a festival to the Babylonian god Marduk. It is he who decides the fate of all his subjects. It is he who has three books in his possession: one for the righteous in his realm, one for the wicked of his realm and one for those in-betweens or intermediaries who he has yet to decide if their names are worthy to write down in his book of life or not.
During Rosh Hashanah, Jewish Talmudic followers blow the shofar in a sequence of notes that are associated with the reenactment of Marduk's victory and subsequent judgment leading towards Yom Kippur. Some even visit the graves of loved ones during the ten days of awe to pray to the dead (familiar spirits) in hopes that God will raise up their relatives into righteous judgment. All this in hopes that they themselves will be worthy enough to have their names written in God's book of life when in reality it is Marduk's book of life they are putting their hope into. Is this the worship and lasting impression Yahweh wants His people to have when entering into His Yom Kippur – one of dread and bowing to foreign gods? This is called worshipping the high places (Matthew 25:1-13).
Jeremiah 50:1-6 "The word that the LORD/Yahweh spoke against Babylon and against the land of the Chaldeans by Jeremiah the prophet. 'Declare among the nations, proclaim, and set up a standard; proclaim-- do not conceal it - Say, 'Babylon is taken, Bel is shamed. Merodach [Marduk] is broken in pieces; her idols are humiliated, her images are broken in pieces.' For out of the north a nation comes up against her, which shall make her land desolate, and no one shall dwell therein. They shall move, they shall depart, both man and beast. 'In those days and in that time,' says the LORD/Yahweh, 'The children of Israel shall come, they and the children of Judah together; with continual weeping they shall come, and seek the LORD/Yahweh their God/Elohim. They shall ask the way to Zion, with their faces toward it, saying, 'Come and let us join ourselves to the LORD/Yahweh In a perpetual covenant that will not be forgotten.' My people have been lost sheep. Their shepherds have led them astray; they have turned them away on the mountains. They have gone from mountain to hill; they have forgotten their resting place.
Leviticus 20:6-7 "And the person who turns to mediums and familiar spirits [pray to the dead as King Saul did], to prostitute himself with them, I will set My face against that person and cut him off from his people. Consecrate yourselves therefore, and be holy, for I am the LORD/Yahweh your God/Elohim."
2 Corinthians 6:16-18, 7:1 "And what agreement has the temple of God/Elohim with idols? For you are the temple of the living God/Elohim. As God/Elohim has said: 'I will dwell in them and walk among them. I will be their God/Elohim, and they shall be My people.' Therefore 'Come out from among them and be separate, says the Lord/Adonai. Do not touch what is unclean, and I will receive you. I will be a Father to you, and you shall be My sons and daughters, says the LORD Almighty/Yahweh-Tzv'ot.' Therefore, having these promises, beloved, let us cleanse ourselves from all filthiness of the flesh and spirit, perfecting holiness in the fear of God/Elohim."
Jews who follow the biblical account of Yom Teruah and those non-Jews who sojourn with the God of Abraham, Isaac and Jacob who follow the Scriptural order of the Feast Days, Sabbaths and New Moon, put in order their personal life before, during the sixth month of Elul called the preparation month. There they take responsibility for all personal sins so that when Yom Teruah arrives, on the sighting of the New Moon/first day of the seventh month, they are prepared with extra oil. Having all repentance for personal sins complete and extra oil in hand they can then enter into the ten awesome and delightful days leading up to Yom Kippur making ready their beautiful flowing linen wedding garments free of spot or wrinkle ready to stand beside her Bridegroom - where there is no accuser of the brethren. She then enters into the Most Holy of Holies, the wedding chamber with her Bridegroom, Yeshua, who has been waiting her arrival since the beginning of time (Leviticus 16:34).
Luke 22:29-30 "And I bestow upon you a kingdom, just as My Father bestowed one upon Me, that you may eat and drink at My table in My kingdom, and sit on thrones judging the twelve tribes of Israel."


John 8:10-12 "When Jesus/Yeshua had raised Himself up and saw no one but the woman, He said to her, 'Woman, where are those accusers of yours? Has no one condemned you?' She said, 'No one, Lord.' And Jesus/Yeshua said to her, 'Neither do I condemn you; go and sin no more.' Then Jesus/Yeshua spoke to them again, saying, 'I am the light of the world. He who follows Me shall not walk in darkness, but have the light of life."





Revelation 12:10-11 "Then I heard a loud voice saying in heaven, 'Now salvation, and strength, and the kingdom of our God/Yeshua, and the power of His Christ/Messiah have come, for the accuser of our brethren, who accused them before our God/Yeshua day and night, has been cast down. And they overcame him by the blood of the Lamb and by the word of their testimony, and they did not love their lives to the death."
Keeping a Cleansed Altar Yahweh commands His people once a year on Yom Kippur to cleanse the altar of incense. What is this cleansing of the altar of incense about? As mentioned above, it has to do with atoning the corporate sins of all Israel. Why is this important? It is about those who are personally part of Israel being responsible and acting accountable toward their brethren, the Whole House of Israel.
His people represent the temple. If they are called a royal priesthood it is their job to keep the temple clean. We see this in the heart of Phinehas. Phinehas acted responsibly when purging sexual immorality from within Israel's camp thereby keeping the altar of incense atoned for and operational (1 Corinthians 3:16; 1 Peter 2:9; Exodus 19:5-6).
Number 25:6-9 "And indeed, one of the children of Israel came and presented to his brethren a Midianite woman in the sight of Moses and in the sight of all the congregation of the children of Israel, who were weeping at the door of the tabernacle of meeting. Now when Phinehas the son of Eleazar, the son of Aaron the priest, saw it, he rose from among the congregation and took a javelin in his hand; and he went after the man of Israel into the tent and thrust both of them through, the man of Israel, and the woman through her body. So the plague was stopped among the children of Israel. And those who died in the plague were twenty-four thousand."



Psalm 106:28-31 "They joined themselves also to Baal of Peor, and ate sacrifices made to the dead. Thus they provoked Him to anger with their deeds, and the plague broke out among them. Then Phinehas stood up and intervened, and the plague was stopped. And that was accounted to him for righteousness to all generations forevermore."
Does eating sacrifices to the dead and sexual immorality go on today within the camp? Yes. Thus once a year the corporate cleansing is necessary to stop the plague. Yeshua has given His people all the tools to prepare appropriately to walk in righteousness on Yom Kippur, just as He did with Phinehas (Acts 15:20).
1 Corinthians 6:15-20 "Do you not know that your bodies are members of Christ/Messiah? Shall I then take the members of Christ/Messiah and make them members of a harlot? Certainly not! Or do you not know that he who is joined to a harlot is one body with her? For 'the two,' He says, 'shall become one flesh.' But he who is joined to the Lord/Yeshua is one spirit with Him. Flee sexual immorality. Every sin that a man does is outside the body, but he who commits sexual immorality sins against his own body. Or do you not know that your body is the temple of the Holy Spirit/Ruach who is in you, whom you have from God/Elohim, and you are not your own? For you were bought at a price; therefore glorify God/Elohim in your body and in your spirit, which are God's/Elohim."
Therefore, we see the same commandment in the New Testament/Brit Chadasha that Phinehas observed. It is called love your brothers (Leviticus 19:18).
John 13:34-35 "A [re]new[ed] commandment I give to you, that you love one another; as I have loved you, that you also love one another. By this all will know that you are My disciples, if you have love for one another."
Yeshua's people are called to stand responsible before Him on Yom Kippur. Therefore, all of us repent. Why all of us? If we have tolerated the sins of sexual immorality in our midst among our own brethren, knowingly or unknowingly, then we are all guilty, as sexual sin is a corporate sin against all Israel.
1 Corinthians 5:11-13 "But now I have written to you not to keep company with anyone named a brother [believer], who is sexually immoral, or covetous, or an idolater, or a reviler, or a drunkard, or an extortioner - not even to eat with such a person. For what have I to do with judging those also who are outside? Do you not judge those who are inside? But those who are outside God/Elohim judges. Therefore 'put away from yourselves the evil person.'"




Revelation 22:15 "But outside are dogs and sorcerers and sexually immoral and murderers and idolaters, and whoever loves and practices a lie."
continues tomorrow...