Ten Point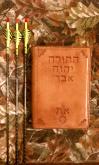 Join Date: Nov 2009
Location: The Woodlands/Conroe
Hunt In: Montgomery & Grimes
Daily Bible Portion (Tuesday)
---
Daily Bible Portion – 3 of 7
KORAH - "TO REMOVE ONE'S COVERING"
(Weekly Reading>>Numbers 16:1 to 18:32, 1 Samuel 11:14 to 12:22, 2 Timothy 2:8-4:5, 2 John 1-13)
The First Death and the Second Death
The first death is putting aside ones sinful [lawless] nature when coming to faith (salvation/born again/change of status) in Christ as Savior, and through repentance in leading a sanctified life through the Holy Spirit.
The second death references one who has come to faith in Jesus as his Lord and Savior, has tasted Christ's forgiveness, signs and wonders in his or her life but intentionally chooses to retain the old sinful [lawless] rebellious nature – thereby re-crucifying Christ all over again and in doing so, make a mockery of His death and the gift of life Jesus/Yeshua died to give us.
This second death is seen in those who spied out the Land and returned with a bad report contrary to God's word. That generation died early in the wilderness. Korah and those with him were swallowed alive for their intentional rebellion. Ananias and Sapphira died instantly for lying to the Holy Spirit. These people and more like them in Scripture all experienced the second death because they knowingly chose to resolutely go against God's principles and direction for life after they vowed to keep it. They embraced that which the Lord/Yahweh warns us not to do or touch. It was a matter of placing our personal preferences over and above His principles for our life (Numbers 13; Deuteronomy 28; Acts 5:1-11).
1 Samuel 15:23 "For rebellion is as the sin of witchcraft, and stubbornness is as iniquity and idolatry. Because you have rejected the word of the LORD/Yahweh, He also has rejected you from being king."
As the betrothed of Christ, we have a great opportunity through His Mercy to enter in today and be overcomers. The choice we make is not to submit or give access for past sins to re-enter and rule over our lives. It is finished. Otherwise, we can wait and wait and wait outside the camp never having truly entered in. This is also the difference between the guests at the wedding and the Bride.
Matthew 22:10-14 "And the wedding hall was filled with guests. But when the king came in to see the guests, he saw a man there who did not have on a wedding garment. So he said to him, 'Friend [believer], how did you come in here without a wedding garment?' [clothed in His right ways] And he was speechless [because he knew what was right and did not apply it]. Then the king said to the servants, 'Bind him hand and foot, take him away, and cast him into outer darkness; there will be weeping and gnashing of teeth. For many are called, but few arechosen [few choose].'"
Romans 9:6 "For they are not all Israel who are of Israel."
We can only move from the Abrahamic Covenant (salvation) into the Davidic Covenant (kingly/priestly - eternity) by applying the sanctification obtained in the Mosaic Covenant – through the highway of holiness.
Matthew 25:1-12 "Then the kingdom of heaven shall be likened to ten virgins who took their lamps [believers with salvation/Abrahamic Covenant had the light/word of God] and went out to meet the bridegroom. Now five [reference to the five books of Torah] of them were wise [believers who walk in obedience to Torah principles, hearing and obeying according to God's word/Mosaic Covenant], and five were foolish [those who hear and do not do according to Torah principles building their houses on sand by following the words of man which change with time/without the Mosaic Covenant in their lives]. Those who were foolish took their lamps and took no oil with them, but the wise took oil in their vessels with their lamps. [Oil represents truth/holiness that is produced by walking in His principles - His Sabbath, Covenants and Feast Days and New Moon festivals] But while the bridegroom was delayed, they all slumbered and slept. And at midnight a cry was heard [reference to New Moon in the seventh month at the Feast of Trumpets – when the trumpets sound]: 'Behold, the bridegroom is coming; go out to meet him!' Then all those virgins arose and trimmed their lamps. And the foolish said to the wise, 'Give us some of your oil, for our lamps are going out.' But the wise answered, saying, 'No, lest there should not be enough for us and you; but go rather to those who sell, and buy for yourselves.' [The wise had enough oil. This oil/truth cannot be bought nor sold. To produce oil one must walk out His right ways called principles as a lifestyle. This is a product of the heart (sanctification) and not a business transaction or a matter of head knowledge] And while they went to buy, the bridegroom came, and those who were ready went in with him to the wedding; and the door was shut [Day of Atonement]. Afterward the other virgins [unwise/unbelieving] came also, saying, 'Lord, Lord, open to us!' But he answered and said, 'Assuredly, I say to you, I do not know you.'"
Redemption
If we have done things that take us outside the camp we have an opportunity to make it right. The time is now during the betrothal season (Feast of Shavuot/Pentecost) to repent for our innocent or intentional sins. We need the anointing of the Holy Spirit. If holiness eludes us we need to search out what is within our thoughts, heart and actions that keeps us from entering into the eighth day – called today (holiness/eternity). This is not a salvation issue but a holiness/eternal life issue.
Hebrews 12:14-16 "[Believers] Pursue peace with all people, and holiness, without which no one will see the Lord: looking carefully lest anyone fall short of the grace of God; lest any root of bitterness springing up cause trouble, and by this many become defiled; lest there be any fornicator or profane person like Esau, who for one morsel of food sold his birthright."
Hebrews 6:4-6 "For it is impossible for those [believers] who were once enlightened, and have tasted the heavenly gift, and have become partakers of the Holy Spirit, and have tasted the good word of God and the powers of the age to come, if they [believers] fall away, to renew them again to repentance, since they [believers] crucify again for themselves the Son of God, and put Him to an open shame."
Hebrews 10:26-31 "For if we [believers] sin willfully after we have received the knowledge of the truth, there no longer remains a sacrifice for sins, but a certain fearful expectation of judgment, and fiery indignation which will devour the adversaries. Anyone who has rejected Moses' law [Mosaic covenant] dies without mercy on the testimony of two or three witnesses. Of how much worse punishment, do you suppose, will he be thought worthy who has trampled the Son of God underfoot, counted the blood of the covenant by which he was sanctified a common thing, and insulted the Spirit of grace? For we know Him who said, 'Vengeance is Mine, I will repay,' says the Lord. And again, 'The LORD will judge His people.' It is a fearful thing to fall into the hands of the living God."
It is the Bride's job to make herself ready by clothing herself with righteous garments. Jesus has given believers the tools that contain His principles, Covenants and Feast Days. Now it is up to the Bride to implement these in her life.
Colossians 3:5-17 "Therefore put to death your members which are on the earth: fornication, uncleanness, passion, evil desire, and covetousness, which is idolatry. Because of these things the wrath of God is coming upon the sons of disobedience, in which you yourselves once walked when you lived in them. But now you yourselves are to put off all these: anger, wrath, malice, blasphemy, filthy language out of your mouth. Do not lie to one another, since you have put off the old man with his deeds, and have put on the new man who is renewed in knowledge according to the image of Him who created him, where there is neither Greek nor Jew, circumcised nor uncircumcised, barbarian, Scythian, slave nor free, but Christ[the word] is all and in all. Therefore, as the elect of God, holy and beloved, put on tender mercies, kindness, humility, meekness, longsuffering; bearing with one another, and forgiving one another, if anyone has a complaint against another; even as Christ forgave you, so you also must do. But above all these things put on love, which is the bond of perfection. And let the peace of God rule in your hearts, to which also you were called in one body; and be thankful. Let the word of Christ dwell in you richly in all wisdom, teaching and admonishing one another in psalms and hymns and spiritual songs, singing with grace in your hearts to the Lord. And whatever you do in word or deed, do all in the name of the Lord Jesus, giving thanks to God the Father through Him."
Revelation 19:7 "Let us be glad and rejoice and give Him glory, for the marriage of the Lamb has come, and His wife has made herself ready."
The Lord's Response
(Numbers 16:17-40)
In response to Korah's rebellion, Yahweh had Korah and the men with him meet at the entrance to the tabernacle and there burn incense before Him. Incense represents our attitude and character. Believers are made in God's image, thus the only incense we are to represent and offer to Him is the fruit of His character: love, joy, peace, longsuffering, kindness, goodness, faithfulness, gentleness and self-control (Galatians 5:22).
The incense Korah and those with him presented had two problems. Firstly, it was not made in God's image. It was a counterfeit image revealing hearts full of idolatry. Secondly, the burning of incense before the Lord was to be a holy act that was reserved only for the anointed priesthood to perform. The fact that leaders from the tribes came forward to do this revealed their haughty attitudes. No tribe was allowed to approach or handle the holy vessels. Their very act of rebellion disregarding the principle of holiness rendered the men unclean bringing about their own deaths. This level of presumption, arrogance and rebellion towards the Lord showed a total disregard for His Kingship. Apparently they did not remember Aaron's first two sons Nadab and Abihu who had previously offered strange fire (idolatry) to Yahweh and died. As a result, Korah and the main leaders with him along with their families were swallowed alive into the earth, while the two hundred and fifty men holding the burning censers were consumed by fire (Leviticus 10:1; Galatians 5:22-23).
continues tomorrow...