Ten Point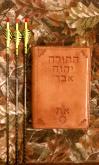 Join Date: Nov 2009
Location: The Woodlands/Conroe
Hunt In: Montgomery & Grimes
Daily Bible Portion (Wednesday)
---
Daily Bible Portion - 4 of 7
"SEE"
Weekly Reading>>Deuteronomy 11:26-16:17, Isaiah 44:11-45:5, 1 Corinthians 5:9-13, 1 John 4:1-6
The sinful nature of disorder and dishonor must be crucified with Him. If attitudes like confusion, discord, strife, sexual immorality, impurity, lust, evil desires and greed, rage, anger, malice, slander, filthy language, bitterness, jealousy, envy and hot tempers are still persistent in believers after they have come to know Yeshua as their Lord and Savior, then they are deceived and the truth is not in them. As such, their walk will not match their confession and they then re-crucify Him all over again. Unforgiveness is the unpardonable sin of dishonor against the Holy Spirit. Believers who walk like this may think they are spiritually born again but morally they look and act just like the pagans around them.
Romans 6:23 (Spoken to Believers) "For the wages of [the law of] sin [and death] is death [eternal death], but the gift of God [the law of Life - forgiveness of our sins through repentance] is eternal life in Christ Jesus/Yeshua Ha Mashiach our Lord/Yahweh."
James 1:20-21 "...for the wrath [the dishonoring nature] of man [believer] does not produce the righteousness of God. Therefore [believer], lay aside all filthiness and overflow of wickedness, and receive with meekness the implanted word [the Law of Life in Yeshua], which is able to save your souls."
1 Corinthians 13:1-13 "Though I [a believer] speak with the tongues of men and of angels, but have not love [the Gospel of Yeshua], I have become sounding brass or a clanging cymbal. And though I have the gift of prophecy, and understand all mysteries and all knowledge, and though I have all faith, so that I [a believer] could remove mountains, but have not love [the Gospel of Yeshua given at Mount Sinai], I [a believer] am nothing. And though I bestow all my goods to feed the poor, and though I give my body to be burned, but have not love [of the Gospel of Yeshua], it profits me nothing. Love [obedience to His Principles – the Gospel] suffers long and is kind; love does not envy; love does not parade itself, is not puffed up; does not behave rudely, does not seek its own, is not provoked, thinks no evil; does not rejoice in iniquity, but rejoices in the truth; bears all things, believes all things, hopes all things, endures all things. Love never fails. But whether there are prophecies [Yeshua's words imparted to believers by His prophets], they will fail; whether there are tongues, they will cease; whether there is knowledge, it will vanish away. For we know in part and we prophesy [speak the words of the prophets] in part. But when that which is perfect has come, then that which is in part will be done away. When I [a believer] was a child [spiritually immature], I spoke as a child, I understood as a child, I thought as a child; but when I became a man [walked in obedience to the Gospel], I put away childish things. For now we see in a mirror, dimly, but then face to face. Now I know in part, but then I shall know just as I also am known. And now abide faith, hope, love, these three; but the greatest of these is love."
John 14:21 "He who has My commandments and keeps them, it is he who loves Me. And he who loves Me will be loved by My Father, and I will love him and manifest Myself to him."


1 John 1:6 "If we [believers] say that we have fellowship with Him, and walk in darkness [Satan's realm- sin and death - sinfulness], we lie and do not practice the truth."




1 John 1:10 "If we [believers] say that we have not sinned, we make Him [Yeshua] a liar, and His word is not in us."




1 John 2:4 "He [believer] who says, 'I know Him [Yeshua],' and does not keep His commandments, is a liar, and the truth [love] is not in him.




1 John 4:20 "If someone [believer] says, 'I love God,' and hates his brother, he is a liar; for he who does not love his brother whom he has seen, how can he love God whom he has not seen?"
2 Corinthians 6:16 -18 "Paul writes to the assembly/believers in Corinth quoting from the Torah and the Prophets,
"Yahweh said, 'I will house myself in them, …and I will walk among you. I will be their God/Elohim, and they will be my people.' Therefore Yahweh says [to believers], 'Go out from their midst; separate yourselves; don't even touch what is unclean [the realm of sin and death]. Then I myself will receive you. In fact, I will be your Father, and you will be my sons and daughters,' says Yahweh the Almighty" (Leviticus 26:12, Jeremiah 32:38, Ezekiel 37:27, Hosea 1:10-11, 1 Chronicles 17:13, Isaiah 43:6).
Paul goes on to say,
"Therefore, my dear friends [believers], since we have these promises [written in the Covenants of Yahweh – the Gospel], let us [believers] purify ourselves from everything that can defile either body or spirit, and strive to be completely holy, out of reverence for Yahweh" (2 Corinthians 7:1; Exodus 20:20).
Eating Blood Forbidden
Deuteronomy 12:15-28 "But be sure you do not eat the blood, because the blood is the life, and you must not eat the life with the meat. You must not eat the blood; pour it out on the ground like water" (Deuteronomy 12:23-24).
Not eating the blood is important for two reasons. Firstly, we do not eat the blood because Yahweh asks us not to. It is a matter of obedience. Yahweh says we are not to eat the blood so it will go well with us, and our children after us. Disobeying this commandment from Yahweh will bring judgments (called curses) upon us that will pass on to our children and to the third and fourth generations. We will be cursing our generations (great grandchildren) if we eat the blood. Secondly, we do not eat the blood as the life of every animal is in its 'life-blood,' and if we eat meat with the life-blood still in it we ingest that animal's life, including the animalistic behavior, mindset and nature of the type of animal we are eating. Those characteristics can manifest in our life and may lead us into compromised and idolatrous behavior, including fear, sexual immorality and occult activity (Numbers 25:1-3).
"Do not eat it [the blood], so that it may go well with you and your children after you, because you will be doing what is right in the eyes of Yahweh" (Deuteronomy 12:25).
Blood and the Ruling of the Jerusalem Council - Acts 15:20-21
In the New Testament/Brit Chadasha we read what the Council in Jerusalem said when Paul and Barnabas asked what was important to teach the akrobustia (Strong's G203), believers who were returning to Yahweh's teaching and instruction. James, Yeshua's half brother and representative of the Council, advised them to teach the Gospel that was taught through Moses at Mount Sinai with the emphasis on,
"to abstain from food polluted by idols, from sexual immorality, from the meat of strangled animals and from blood" (Acts 15:19-21).
James quoted Leviticus 17, Deuteronomy chapter 12 and 19:26, and Ezekiel 33:25. The reason why the Council gave these four instructions was because they all had to do with blood in the diet. Restoring biblical eating habits is imperative for the believer. Obeying this will help keep temptation of pagan customs, cultures and other unclean influences away. If not, the new believer coming into Yeshua's lifestyle will have a weak spiritual resistance, which will affect their pursuit of a righteous holy walk and lifestyle in Yeshua. This is why the council also advised new believers to start observing the Sabbath, as it is in the Sabbath that the restored believers will hear all the Words Yahweh spoke through Moses at Mount Sinai - the Gospel.
"For Moses has been preached in every city from the earliest times and is read in the synagogues on every Sabbath" (Acts 15:21).
Twenty-five years after Yeshua's death and resurrection, the highest court of law in Yahweh's earthly kingdom, the Jerusalem Council convened by Yeshua's apostles, all spoke in agreement of the Torah that Yeshua[Jesus], as Messiah, confirmed, fulfilled and passed on to them. Not one of the synagogues, churches or assemblies deviated from upholding the Gospel that was given at Mount Sinai through Moses as the law they and returning converts were to obey. This commandment is an eternal word - for today. The Council was so strong about the blood issue that they advised the instruction be written down in a formal document and sent back with Paul and Barnabas to the Israelite believers in the Diaspora explaining exactly what the Council recommended. The dispatch was sent. It re-confirmed the wisdom of Torah to those returning to the Kingdom, saying to abstain from food polluted by idols, from sexual immorality, from the meat of strangled animals and from blood. The highest court of the land was careful to explain that the Gospel, given by Moses, was the foundation of this teaching and that Yeshua was the voice of Yahweh. It was He who spoke these instructions originally to Moses on Mount Sinai and through him to the nation of Israel. These words are what all believers are commanded to teach and obey perpetually – today (Acts 15:23-29).
In Acts 15:16-18 the Council tells us who those returning people are by quoting Amos 9:11 which record the voice of prophecy concerning the latter-day remnant that would seek Yahweh,
"After this I will rebuild David's fallen tent [the tabernacle/Covenant of David]. Its ruins I will rebuild, and I will restore it, that the remnant of men may seek Yahweh and all the Nations who bear my name, says Yahweh, who does these things" (Jeremiah 31:31-33; Hebrews 8:8-10; Amos 9:11-12; Acts 15:16-18).
A spoken commandment or principle of Yahweh does not change. Yahweh's heavenly and earthly courts are built on His commandments – He spoke and Creation came into being. Everything ever created was created from His Word. Not only was this teaching on the blood principle mandatory according to the Jerusalem Council, all the disciples of Yeshua, the elders and believers living in Jerusalem and those believers living among the Nations upheld it as an integral part - the key - to the teachings of Moses for the believer's faith, walk and life (Acts 21:25). Many years later when Paul returned to Jerusalem, the Jerusalem Council once again exhorted this same principle to him in Acts 21:25 as the foremost important instruction for those turning to Yeshua saying, "That they should abstain from food sacrificed to idols, from blood, from the meat of strangled animals and from sexual immorality." Three times in the Book of Acts, the Jerusalem Council confirmed this teaching of Moses as being imperatively foundational for those walking in Yeshua.
continues tomorrow...