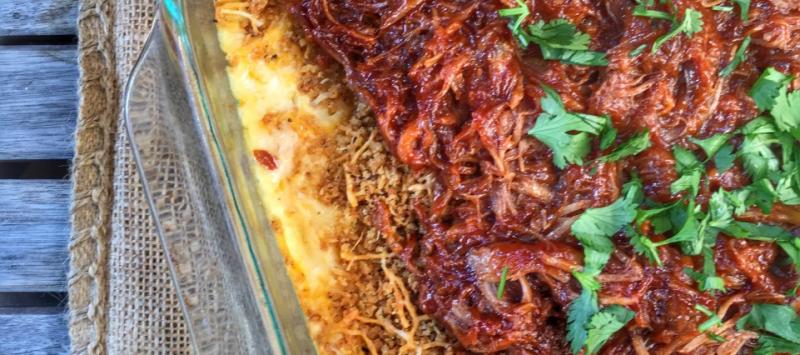 Ingredients
1 pound of shredded wild pork
1 cup BBQ sauce
½ pound Elbow noodles
1 ½ cups shredded cheddar
4oz cream cheese (softened)
1 egg
½ cup heavy cream
2 ½ cups milk
1 tablespoon paprika
2 tablespoons garlic, crushed
½ cup shredded jack
4 tablespoons butter
3 tablespoons flour
1 tablespoon cracked pepper
1 teaspoon salt
1 teaspoon mustard powder
Topping:
1 cup panko bread crumbs
2 tablespoons garlic, crushed
4 tablespoons butter
Instructions
1. Directions:
2. • Preheat oven to 375 degrees
3. • Bring 4 cups of salted water to boil
4. • Add Macaroni and cook for 7 mins until pasta is al dente (cooked firm)
5. • While pasta is cooking start on topping. Melt butter over medium heat, add garlic and panko and cook until browned, about 3-5 minutes.
6. • Remove from heat and cool
7. • Start on cheese sauce
8. • In large pot melt butter over medium heat, whisk in mustard, paprika and flour until fully mixed and flour begins to brown.
9. • Wisk egg, milk and cream along with salt and pepper.
10. • Add milk mixture to flour mixture and simmer for 5 minutes
11. • Remove pasta and drain
12. • Add cream cheese, cheddar and jack to milk mixture and whisk until fully melted.
13. • Fold in pasta to cheese sauce
14. • Pour mixture into a greased baking dish and top with panko bread crumbs
15. • Bake for 20 minutes, add shredded BBQ pork
16. • Cook additional 10-15 minutes
17. • Remove and try not to burn your tongue as you fork a giant spoonful into your mouth